Keep a copy of your Home center configuration in a backup file!
Why? This is useful if you want to experiment a bit on the layouts of your zones. When it gets to messy you can restore your backup to get everything back as before.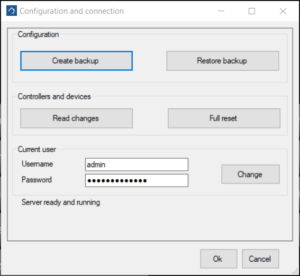 How? In the Home center Windows client, go to Settings. Then select 'Configuration'.
In this screen there are two buttons 'Create backup' and 'Restore backup'.
Hitting the 'Create backup' will ask you where you want to locate the backup file. Press 'Save' to store the backup file. The result is a .zhc file. Do not change the content of this file or the file will be corrupt.
'Restore backup' will ask for the backup file and then restore it.
The backup file contains all the client settings:
default button layout
layouts of the zones including button styles and background images
the configuration from the home automation controller.